You may have heard of solar farms, but have you heard of solar gardens?
And no, we're not talking about backyard plots for growing your salsa ingredients. Though a recent study does show that solar panels could help with growing crops.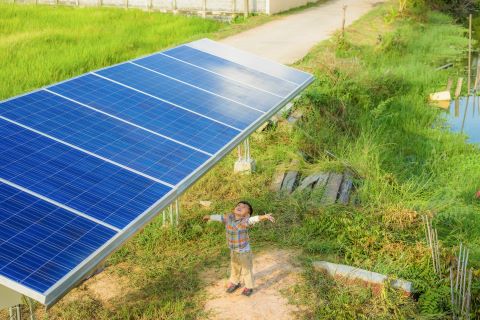 What is the difference between a solar garden and a solar farm?
Nothing - they are just different terms for the same thing: community solar.
Solar farms or gardens consist of community shared solar arrays with grid-connected owners or subscribers. They allow local homes and businesses to get credit for solar power generated as if they were on their own roof, via virtual net metering.
What is virtual net metering?
Basically, solar power is generated by panels in your community solar farm, and the excess energy is delivered to the grid. The utility company then credits your electricity bill for the energy received.
Advantages of Community Solar
Here are the main reasons community solar is on the rise.
Makes solar more accessible
The biggest advantage of shared solar is that people can go solar, even if they are not able to do so on their own.
A 2015 NREL and DOE report estimates that nearly 50% of homeowners and businesses are unable to host photovoltaic (PV) systems. Solar farms offer a roofless solar alternative.
For example, if you rent an apartment, don't own a roof to install solar panels, the cost of solar installation is too high, or your roof is in the shade or not suitable for solar installation, you could still generate solar energy and get the reduced electricity costs by buying into a community solar project.
Supports small business
Most solar power operations are run by large corporations in billion-dollar plants. With solar farms and gardens, communities can invest in solar together, without the need for large corporations.
Consumers are more likely to be excited to buy from small businesses than huge corporations, generating greater interest in adopting solar energy.
Small businesses and entrepreneurs find solar farms a great opportunity to meet clean energy goals as well.
Brings jobs and solar to low-income communities
Solar gardens bring good jobs to communities, and boost local economies with lease payments to landowners and farmers, helping them support their families.
Also, because low-income people are more likely to rent, they have less opportunity to take advantage of solar than homeowners. Solar farms help bridge this gap.
Reduces carbon emissions and energy costs
Just like any other solar energy, community solar helps reduce carbon emissions, as well as energy costs at home, for cost-effective green living. On average, solar garden subscribers save 5-15% on electricity costs.
Minnesota: Leading a New Crop of Solar Gardens
Many states discourage solar gardens because electricity from them costs almost three times more than that from industrial, large-scale solar plants. However, one state is bucking the trend.
Minnesota is reaping a bountiful harvest from community solar farms, as solar there is a democratizing cottage industry that spreads money, jobs, and electricity more evenly throughout the state.
Due to a 2013 state law, there is no limit on the power solar gardens can generate, and utilities are required to buy whatever the gardens produce.
According to the Department of Commerce, Minnesota's solar capacity increased by 47% last year, mostly due to a growth in community solar. In 2018, Minnesota had 208 solar gardens - more than a third of the total number in the US.
The Future of Community Solar in the US
In 2018, community solar installations amounted to 1,387 megawatts, and this is expected to jump to more than 3 gigawatts in the next few years, according to Wood Mackenzie. In addition, 43 states had community solar projects in the US. This despite the fact that only about 19 states currently have policies in place supporting community solar.
In other words, community solar is taking off even in states that have policies discouraging further development.
So what would happen if these states put new policies in place to encourage solar farms?
There would be potential for a boom in community solar that may make it second only to the utility-scale segment.
Many states are already expanding their legislation to support more community solar in the future, including Colorado, Maryland, New York, Illinois, New Jersey, and New Mexico. So it's only a matter of time before community solar explodes.
The Smart Electric Power Alliance (SEPA) predicts that community solar will make up 30 percent of all distributed-generation solar electricity by 2020.
Community solar is the next big thing in today's sharing economy. Think of solar farms as the next Uber or Airbnb in the energy industry, and it's clear that their future is bright.
Would you buy into a solar farm? Tell us why or why not in the comments!
Have a roof and want to install solar panels on it? Use HahaSmart's Price Checker to get quotes in your area today.
Create the perfect solar array for your rootop with the HahaSmart DIY Design Tool.