Summary:
First Solar's 150-MWac Sun Streams 2 PV solar plant will power new Microsoft Data Centers in Arizona, providing clean solar electricity and creating up to 500 construction jobs. Construction is slated to begin late 2019.
---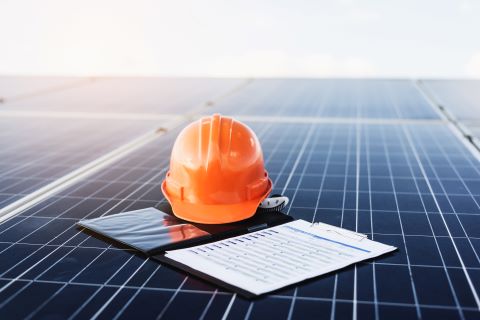 Article:
First Solar Builds 150-MWac Solar Plant for Microsoft Data Centers
First Solar announced that its Sun Streams 2 PV solar plant will power new energy-efficient data centers being built by Microsoft in Goodyear and El Mirage, Arizona. The 150-MWac facility, is being developed and constructed by First Solar in Maricopa County and will power the data centers under a 20-year agreement and will be operational in 2021.
The power plant will use First Solar's proprietary Series 6 module technology which has a carbon footprint that is up to six times lower than conventionally-manufactured crystalline silicon PV panels, giving it a superior environmental profile and allowing Sun Streams 2 to deliver cleaner solar electricity.
"First Solar's high-tech factories, which are some of the most sophisticated and sustainable facilities of their type in the world, are enabled by Microsoft technologies and the Microsoft Azure cloud platform, including Azure IoT Hub and SQL Data Warehouse," said Brian Janous, general manager of energy and sustainability at Microsoft. "This is an example of how Microsoft is able to accelerate clean energy and create symbiotic value, not only in our operations but beyond."
First Solar, which is headquartered in Tempe, Arizona, is expanding its manufacturing capacity to meet the demand for Series 6 modules, with its second facility in the United States — representing nearly $1 billion in cumulative investment — expected to start production in early 2020. Once its Perrysburg, Ohio, facility is operational, First Solar will be America's largest solar module manufacturer.
"As the global leader in corporate solar, we're delighted to support Microsoft's decarbonization commitments," said Karl Brutsaert, Senior Director of Corporate Renewables at First Solar. "Microsoft operates one of the largest and most innovative cloud infrastructures in the world, so it is only fitting that its latest data centers are powered by cleaner solar electricity generated by some of the most eco-efficient and innovative solar technology available today."
Sun Streams 2 is expected to begin construction in late-2019 and will provide up to 500 construction jobs. Aligned with Arizona's renewable energy policy, the project will contribute significant economic benefits to Maricopa County, including increased tax revenues to support local schools.
"As an Arizona-based company and an American solar manufacturer, we're thrilled to be powering these data centers, which will be important drivers of local investment and economic growth," said Kathryn Arbeit, VP of project development for First Solar. "This collaboration with Microsoft demonstrates just how large-scale solar can unlock value for local communities that benefit not only from the generation of jobs but also from the tax revenues for the county."
Clean energy is more affordable than ever - use the HahaSmart Price Checker to see how much you can save today.
Design the perfect rooftop solar array for your home with the HahaSmart DIY Design Tool.